There's nothing quite like a new washing machine, it works well, gets clothes clean and smells sweet. After a while, especially if you leave damp clothes in the machine, there's often a swampy smell, not pleasant at all. If you find your washing machine is starting to smell a little, why not clean it using some of the following methods?
Run a service wash or if the machine doesn't have this type of setting, do an empty wash. Turn the temperature to high – this will get rid of any mildew or mould present that can survive in lower temperature washes.
Next turn the machine off and unplug it.
Bacteria and mould that often cause noxious smells that hide in the rubber door seals of washing machines so give it a good scrub. If the rubber smells of mould, a good idea is to replace the entire seal.
Take out the detergent drawer and filter and give them a good clean.
Then using a drain un-blocker, clear your stand pipe. If there are any blockages, they can easily contribute to foisty and damp smells emanating from the machine.
Leave the door and detergent drawer open when not in use as this will help to dry the inside of the machine thoroughly. It will also slow the build-up of any smells or bacteria that may be lurking.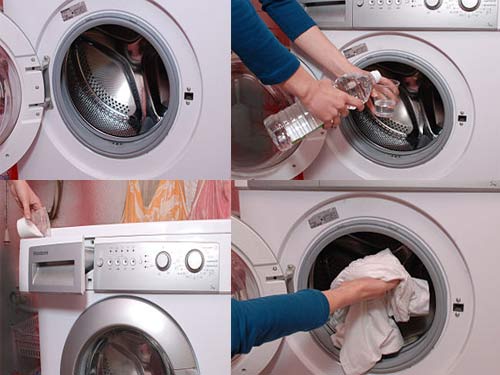 Learning how to clean your washing machine so there are no smells is really quite straightforward to do.
Other reliable methods to clean washing machines
There are many other reliable methods when it comes to keeping washing machines clean and in pristine condition. Start off by wiping down the rubber gasket with a cloth soaked in a mixture of 50% bleach and 50% warm water. Clean the inside of the gasket too, this is where mould or mildew can collect. If there's still a smell, soak a cloth with the bleach mixture and put it inside the rubber gasket for approximately half an hour. Remove the cloth and scrub the rubber gasket with an old toothbrush. After this:-
Wipe the gasket with a clean cloth and wash any cloths on a high setting.
Run the machine on a second complete cycle, hot setting, adding two cups of vinegar (never mix bleach and vinegar together as it is highly dangerous). Pop in a couple of towels to wash as it's advisable not to run an empty load.
Remove the detergent dispenser and clean it with 50/50 water and vinegar mixture.
Wipe down the inside of the machine along with the space where the dispenser goes as this often gets clogged with washing powder.
Finally clean the door, inside and out, with water and vinegar making sure the bottom of the door is thoroughly cleaned too.
Lastly remove wet clothes as quickly as possible, as they will start to smell if left, so you don't have to do another wash.